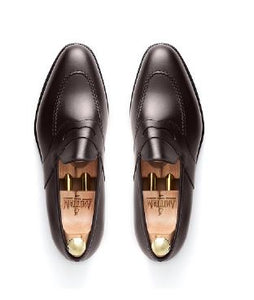 Mattina's Rossini is a full strap penny loafer that is perfect for the heat. We recommend smooth calfskin for business casual wear, and suede for casual Summers.
270 Handwelted construction
Leatherboard heel counters
Full veg-tanned leather heel stack
Total cost: $490 shipped
Pictured on the C almond last in Vocalou Dark Burgundy Calf
Lead time is approximately 6-8 weeks.
Add 1-2 weeks for JR soles.
Add an additional 1-2 weeks for Toe taps/Topy