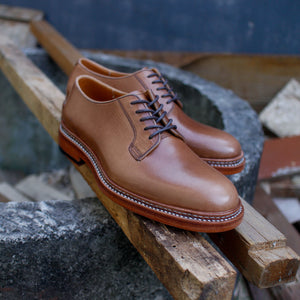 Midas' Plain Toe Blucher is a classic casual lowcut style, with a characterised by the large single panel of leather sweeping across all sides of the shoe.
Handwelted construction 
Thick full veg-tanned leather insole
Full veg-tanned leather heel stack
Fully handstitched outsole
Note: Sizes over 45 will incur additional charges
Lead time is approximately 4-6 months.
Remaining 50% of base price is due upon completion. Total base price is $340 USD shipped.
Midas products are not handled by House of Agin, and are shipped directly from the maker to the customer.