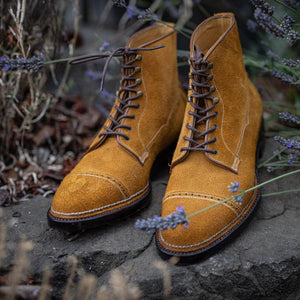 Midas' Vanquish Blucher boot is an interpretation of the classic field boot style, with a peaked shaft seam and faux-stitching across the toe cap
Handwelted construction 
Thick full veg-tanned leather insole
Full veg-tanned leather heel stack
Fully handstitched outsole
Note: Sizes over 45 will incur additional charges
Lead time is approximately 4-6 months.
Remaining 50% of base price is due upon completion. Total base price is $340 USD shipped.
Midas products are not handled by House of Agin, and are shipped directly from the maker to the customer.
Pictured in JFJ Baker Russian Calf (not currently available), Maryam Toscanello Horsebutt, and tan roughout.